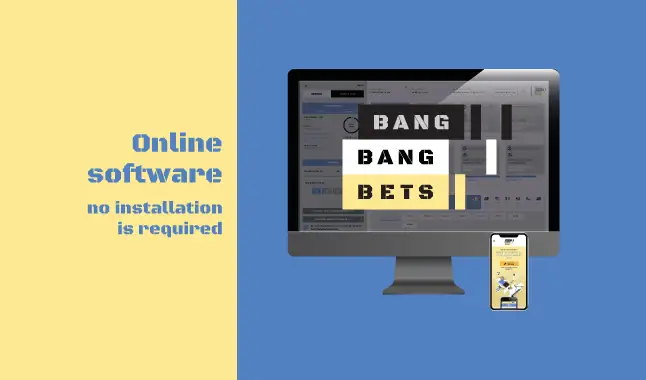 Betfair trading software, BangBangBets, has announced some news with the latest update.
Bang Bang Bets
is one of the most accepted software within the gambling community.
One reason, it's free, however, is also multiplatform.
At its latest upside, this trading software at Betfair has released some news:
Ladder lines custom height: you can customize the line-height and text-size of Ladder view, so that you can have zero spaces between lines if you want.
Ladder fullscreen view also on desktop: not only we re-designed the mobile ladder fullscreen view to include the CashOut button, but we also made it available for desktop views so that you can focus on the trading area (minimizing the header size).
Full stake list on market page: both on Grid and Ladder views, you now can quickly switch between your stakes (in your stake list).
All this news, add to a large number of highlights of this software.
BangBangBets highlights:
The latest technology software, without the need for installation, available in any web browser;
Multi-platform, that is, it works on MacOS, Linux, Windows, iOS and Android;
Streaming data in real time, via websockets technology;
Search for markets presented in tree form of the type: sport> competition> event> market;
Event search bar that facilitates the search for markets (competition, name of the event or team);
Intuitive Home Markets area, organised by outstanding markets, in the following order: soccer, horse racing, live markets, tennis and basketball;
The "Market Page" header is the same in the grid view and in the ladder view, in addition to the "Options" button, which is visible only in the ladder view;
Grid view interface easy to analyse: suitable for markets with many selections, for a general perspective;
Grid view with extra information on each horse (card form);
Ladder view (not available on the Betfair site), suitable for an intuitive overview of the odds ladder;
Customisable ladder view: possibility of adding ladders, depending on the size of the screen;
Several markets in different tabs of your web browser;
Cashout area to close open positions in all markets (Global Cashout option).
"All your unmatched bets" area, to quickly see all your unmatched bets (you can eventually cancel everything with a single click);
Automatic bets: keep in play, fill or kill, tick offset, stop loss;
www.bangbangbets.com and add the icon to the home screen.
Application for mobile devices: just go to
Also read:
Bang Bang Bets: the new online trading software