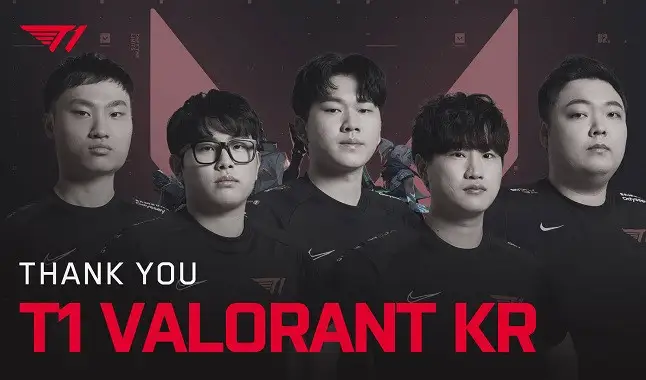 The T1 organization dismissed its Korean roster of Valorant; stay in.
This past week, we heard that the T1 organization has dismissed its Korean roster of Valorant. Days ago, Cloud9 had also dismissed its team of Asians to meet Riot Games compliance. In the case of T1, the Korean team was being considered as one of the strongest in the Asian competition. However, the T1 squad had been overshadowed by Vision Strikers, which already counted 44 games undefeated in their region.
The layoff of the Korean cast of T1 was due to the regulation of Riot Games. According to the developer, as of 2021, no organization can have two teams in the Valorant competition. This is due to T1 also having a Valorant team in North America. Therefore, the organization chose to shut down its Korean team and focus only on the North American, which seems to be stronger.
In the First Strike North America tournament, T1 reached the quarter-finals, but was eliminated by 100 Thieves, the team that became the tournament champion. The Korean squad of T1, on the other hand, failed to win any title in their short life in the competitive scene of Valorant, but came close to shaking Vision Strikers. Within the A.W Extreme Masters Asia Invitational, T1 managed to come close to beating Vision Strikers, but lost by the close score of 3x2.
Check out today's matches at the Betting Academy!
Because of this feat at AW Extreme Masters Asia Invitational, the Korean T1, within First Strike Korea, was the most contemplated team to beat Vision Strikers and take its position, however the team ended up slipping and losing to aNg DarkHorse in the quarterfinals of the tournament, by the score of 2x1. In addition, First Strike Korea was the last official Korean T1 championship.