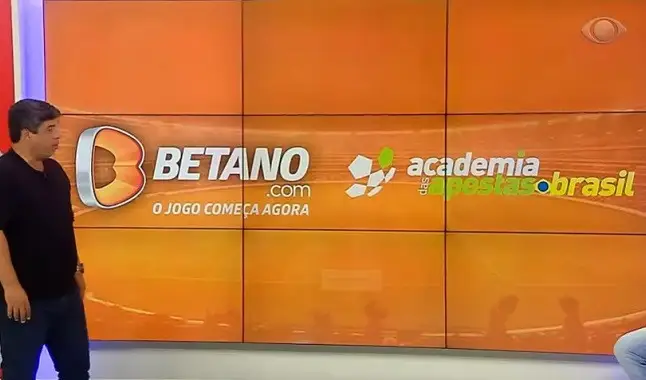 Brazil's largest sports prediction website closes partnership with Betano and will be part of the program.
The Betting Academy, in partnership with Betano, closed a television agreement with Donos da Bola - Rio de Janeiro and are now part of one of the largest sports programs in Brazil. The program will air from 12:30 pm to 1:30 pm, Monday through Friday, on the Band.

The website of
Betting Academy
has the most complete content of sports forecasts in the country, where sports and tips fans find all the information of clubs on the planet, with statistics and betting suggestions, and with analyzes made by specialists. In addition, the website provides data on competitions, players and teams, as well as sports betting courses, so that the user has all possible knowledge to bet. The portal still offers all the games of today in the world, informing their schedules, in addition to following the results live.
The opportunities to appear on the television program with a space called
Academia das Apostas (Betting Academy)
came up and the site agreed to join its efforts with
Edson Silva
,
Fernando Verchai
and professor
René Simões
. By the hand of the
Academy
, Betano also entered the space. Betano was chosen because of its social commitment, as well as being the most recent sponsor of Carioca 2021.
For the Academy, since it reaches several million bettors every month, it is increasingly important to have visibility as an informed betting driver. The Academy's decision to enter this format arises from the need for bets to be spoken, "
It is important that sports bets are spoken, that it is understood that they are a reality. If society perceives the emotion behind a bet, bettors will not be marginalized and it will be possible to identify deviant behaviors
" said one of the Academy's administrators.
Likewise,
"bettors need to learn that a bet is not an impulse, it must be an informed decision. And sometimes, the best bet is simply to do nothing, not to bet"
, for this reason, in this format, we seek that bettors justify their bets, "
if a bettor can't justify his bet to others, he probably can't do it to himself either, so that bet shouldn't have been made
".
To put their hunches into action,
Betano
has several betting options within a single game, so that the player has the best experience possible. It is one of the largest houses on the market, with a complete platform for those who like the segment.
Every week, "Donos da Bola" will have the participation of bettors, who will give the best betting suggestions through data collected at the Betting Academy, to be bet at the
Betano
bookmaker. You can follow the program every Friday, on Band TV Rio de Janeiro or on
Youtube Edson Silva
on
Rede
.
Bet wherever you want through the best online bookmakers!