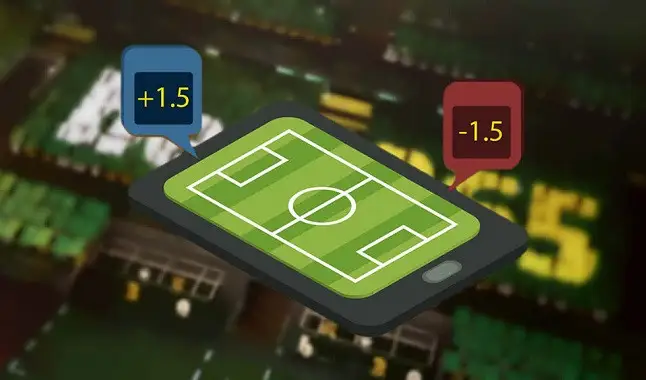 The Asian Handicap is one of the most used markets for betting.
In the previous article, we explained the functionality of the European Handicap, showing how it can be used to achieve greater advantages within a football match. Today we go further, as we will present the Asian Handicap, which is a little more complex, but has much more interesting resources.

Join our channel on Telegram - Clicking HERE!
Unlike European, where numbers are just integers, in Asian you will also find odds in this format:
+0.5, -0.5, +1.5, -1.5, +2.5, -2.5
, etc. Another important difference is that in the event of a tie, the bet is returned on the Asian Handicap.
Check out all the MATCHES TODAY and follow them live!
So, let's follow the same game as the previous article, so you can see the difference. The match is valid for the Premier League, between
Chelsea x Southampton
:
Chelsea (-1): 1.60
Southampton (+1): 2.30
If Chelsea need to win by two goals at the European Championship (they are at a disadvantage of 1 goal), here it is also necessary to win by the same
two goals
to take the
total prize
, but there is an important detail, if they win by only
1 goal
, it's as if the game had ended in a
draw
, in 1v1. When there are cases of tie, the bet is
returned
, that is, there is no profit or loss. It's more security that you get.
But there will be cases that will be "
two odds
" in a single option, we will explain:
Chelsea (-1, -1.5): 1.940
Southampton (+1, +1.5): 1.960
You may be wondering right now "What's this weird thing?", but it's nothing weird and it's pretty easy to explain. Here the range of options increases, but pay attention:
In practice, it is not possible to have
-1.5 goals
in football, or any other broken number, as there is no "
half
" goal, correct? But in
Asian
betting, it works like this:
Look, the odd is (
-1, -1.5
)
Chelsea,
in this case, will need to
win by 2 goals difference
, since greater than 2 is greater than 1.5. Here nothing has changed, as in the example above you also need to win by two goals difference. Now, if you win by just
1 goal difference
, you will
lose half the bet
, as 1 goal is less than 1.5. On the other hand, you will have half of the bet returned, as this goal will equal the option "-1", also contained in this bet. If you bet 100$, you will lose 50$ and have the other half returned.
Now let's look at
Southampton
, which has a quote (
+1, +1.5
). If the team
loses by 2 goals difference
, it's gone, you lose the total bet. But if the team is tough and ends up being defeated by just
1 goal difference
, you take home part of the wagered profit, thanks to the "+1.5" option. You win a part, because the other is returned to your account without profit or loss, since losing by 1 goal, you are equal to the "+1" option. As we said at the beginning of the article, if there is a tie, there are no gains or losses. Finally, the most spectacular case would be if the team
managed to pull a draw
from Chelsea, since in this case the bet would be 100% won.
We've set an example in the results market, but bookmakers offer
Asian Handicap
for other betting styles. It is possible to use this same strategy in the
corners
,
cards
and
goals markets
, for example. It all depends on your assessment and see where it best fits in the game, or also where you will have greater knowledge and preferences. The idea and meaning is the same explained throughout the article, the only thing that change is the market.
This is another way for you to explore a football match, and with enough analysis, studies and methods, you can get good
advantages
.
Bet wherever you want through the best online bookmakers!